Farm Shop Post Frame Buildings
Multiple use Post Frame Farm Shop buildings can save you money
Ever dream of owning a farm shop where you can work comfortably in the middle of winter? A farm shop is more affordable than you might think and can be designed for a range of uses.
Integrity post frame farm shops have been built to offer both storage and maintenance space for hobby equipment, vehicles, office, repair areas and more.
Integrity Farm Shop Advantages
Perma-Column: the only company in Canada to offer precast concrete columns that keep wood out of the ground and allow for a concrete foundation on your post frame building. Find out more about Perma-Columns »
Wide range of insulated and uninsulated doors to fit your machinery including sliding, bi-fold and overhead
Available in cold storage, insulated or combination customized to your operation
Straight walls to 24' give you maximum usable space and the ability to park large equipment tight to the wall
Strong metal: our full 3/4" rib (large rib) metal gives our buildings more strength than the competitors
Interlocking truss-to-post connection: our saddled truss connection gives secure fastening through the whole post. This means a better load transfer from the roof to the walls
Smoke wall light has less glare than traditional wall light: exclusive to Integrity
Windows available in sliding or fixed
Metal lined interiors mean low (or no) maintenance
Great service guarantee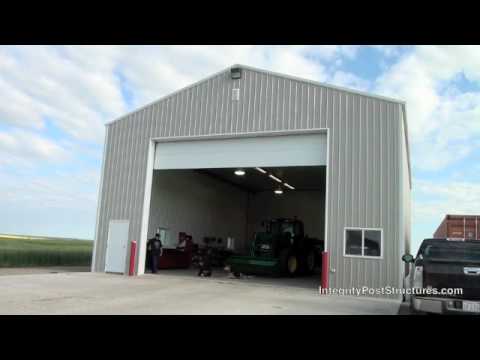 Farm Shop by Integrity Post Structures, Greg Steer
Greg Steer gives a tour of his Integrity Post Structures farm shop.
Farm Shop Post Frame Buildings
Farm Shop Photo Gallery
What Owners Think of Our Farm Shops
Great job! Kudos to Owen for being more than a salesman! Our crew, led by Brent was a pleasure to deal with on a daily basis. I am proud to tell people it is an Integrity Building.
The whole process was better than we could have anticipated! The crew was very organized, professional, and had excellent work ethic arriving the same time everyday and working non-stop. They were very clean as well, no materials or garbage left on site. The whole process to put together a 40×60 shop only took 5 days!
Our salesman, Jason was there every step of the way. He made sure we were happy with our blueprints and followed up frequently before making sure materials and crew were ordered/available. He also stopped by to check on progress as well as afterwards to confirm satisfaction.
Overall, we would highly recommend Integrity Post Structures to anyone! You couldn't have expected a better crew from all stages of our purchase!
Crew did a great job putting up shop, great bunch of guys and good workers. Showed up early worked till evening. Thanks a lot, enjoying new shop.
Building up and finished in five days with six guys. Brent's crew was very good.
My new heated shop turned out better than I expected. The crew which built my building were more than just picky, you could tell that they enjoyed their job and take pride in their work.
Post Frame Experts Blog